CALL FOR DESIGN PROPOSALS FOR AWARDS TROPHY
The Department of Arts & Culture have an Annual Services Awards Ceremony for honouring exceptional work in the fields of Arts & Culture; Museums; Language; Heritage; Libraries; Archives; and the Minister's Special Award. For the 2011/12 awards ceremony trophies, the Department of Cultural Affairs and sports is inviting proposals and designs from VANSA artists and designers.
The brief and specifications are as follows:
Aesthetically beautiful, sleek, aspirant, prestigious, inspirational, delightful, sought-after, glamorous, intrinsically sculptural - a statue designed for a handheld trophy or award. It requires a base with provision for an engraved plaque - details for the engraving will be supplied on request. You are encouraged to explore the boundaries of design and innovation. Preferably, the
materials used should be environmentally friendly
. Twenty nine trophies will need to be produced for the awards including the engraving and packaging. Please bear in mind, there is a limited budget for this project so designs should take this into account.
Please submit your proposal, design and quotation for the production of the 29 trophies to VANSA Western Cape by 21 October 2011.
Contact VANSA Western Cape for any further details
www.vansa.co.za
To inspire you, here's some great work by designers from all over the world: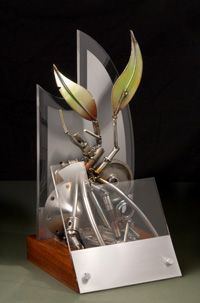 Trophy for the 2008 EPA (Environmental Protection Agency) Sustainable Industries Awards, designed by Australian sculptor Mick Zalesky
Read about this design and its story at
onedegree.com.au/invisible-parent/a-sustainable-piece-of-history/
And have a look at some very unique and inspiring trophies at: